Hōkai Tahi held its Annual General Meeting on the 13th June, 2023, and celebrated the past year of achievements. As we look back on the past year, we are very grateful for the position Hōkai Tahi is in. Thankfully with Covid-19 in the rear view mirror, the focus can return to growing a holistic and welcoming service that serves Wairarapa women. 2022 was Hōkai Tahi's biggest year yet in terms of client numbers, and we are thankful that these women have entrusted us with their care.
Ngā mihi nui to Sue Reid for attending Hōkai Tahi's AGM and sharing the story of her son Isaac, who passed away at 7 days old. Sue shared how the 'power of community' strengthened her whānau during this difficult time, and the little things that meant so much. She also talked about the journey of grief and how her grief is still present today, although not as raw as it once was. Thankyou Sue for being willing to share this experience and your thoughts on how we can all support others going through tough times.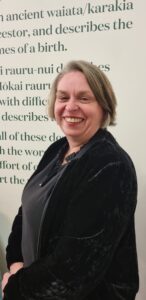 We want to especially thank Katie van Dalen (previous Service Manager) who resigned in 2022 after many years of love and passion poured into her role. She has left the service in wonderful shape: we have a team of dedicated volunteers, gorgeous premises, generous donors and funders, and a professional set of policies and templates.
We are blessed to have a diverse group of Support Coordinators within our service. Deborah Aporo (addictions counsellor) and Anneke Bakker (hospital midwife) both joined us in 2022, and bring a unique set of skills to the group. We'd also like to thank Lorraine Goulton, Wendy Baird, Emma Stuart, and Lorraine Jones for their ongoing contributions, recognising the professionalism and passion they add to our organisation.
Hōkai Tahi is also able to offer professional counselling for clients in need of specialist support, through Tineke Verbeek – a previous Support Coordinator and local counsellor. This partnership has been working very well, and we appreciate Tineke's expertise knowing her practice aligns with the Hōkai Tahi's mission and values.
It's because of the support of individuals, businesses, medical and community services, and our incredible volunteers, that we are able to continue to consistently support local hapū māmā and their whānau.
A snapshot of the 2022 trends:
• The total number of referrals in 2022 was 33. For 2023 to date, we have had 16 referrals.
• The majority of clients are self-referred, with medical/midwife referrals second highest.
• In 2022, 53% of clients accessed our service for emotional pregnancy support, 6% for practical pregnancy support, and 41% for baby loss support.
• Most of our clients are between the age of 18-30 (75%), and are NZ/European (62%), Māori (25%), or Other (13%).
• We distributed 11 baby loss care packages in 2022. Year to date 2023 is 28, which includes 16 packs given to Wairarapa Maternity and Emergency departments.
• We have had community referrals from midwives, Wairarapa Hospital, Whaiora, Changeability, the Police, and more.
Hōkai Tahi wishes to acknowledge and thank our funding bodies, individual donors, and generous volunteers who see the value in what we do and who make all our work possible.